"RIVETING.
Death of the Persian Prince remains one of the most riveting and life-altering plays in the current canon of LGBTQ theatre." -David Roberts, TheatreReviews.com
Reviews and Press
"I'm loath to say very much at all about Death of the Persian Prince only because the less you know about what it has up its sleeve, the more powerful it is. However, playwright-director Dewey Moss has done his job so well, with this tight, taut play, that knowing "the big secret" may not diminish the impact but only heighten it differently. Death of the Persian Prince is an award-winning festival play... It's very worthy of being offered by a subscription off-Broadway theatre company and being produced in the regionals ASAP. It's a solid, provocative, well-rendered sleeper…that really keeps you awake." —David Spencer, Aisle Say
" Death of the Persian Prince is a play of substance and heart that deserves recognition and the opportunity to be more widely seen. There is a tendency for plays with a strong social justice message to become pedantic and sanctimonious, but, truly, we do not come to the theater to be lectured to. So double kudos to Mr. Moss for presenting this story through a naturalistic recounting." —Howard Miller, Upstage-Downstage
" Death of the Persian Prince will surely change your thinking about the transgender community and the deep prejudice that surrounds the lives of the brave and heroic individuals who choose to celebrate who they have always been. Death of the Persian Prince remains one of the most riveting and life-altering plays in the current canon of LGBTQ theatre." —David Roberts, Theatre Reviews Ltd
"Dewey Moss' powerful new drama is an important play...We must not forget the harrowing, tragic fate that the Iranian regime imposes on many members of Iran's LGBT community. After seeing this play it seems impossible I'll ever forget." —Nick Walther, UInterview.com
"Playwright Dewey Moss has crafted a well structured, taut, and seemingly conventional romance among clashing cultures that shockingly switches gears. Inventively based on news stories about situations in Iran, Mr. Moss skillfully weaves political issues into the dialogue among the characters and creates a plot that is gripping and painful. With fine simplicity Moss also directs this contained and emotionally charged play that features a trio of strong performances." —Darryl Reilly, TheaterScene.net
"The cast of three sterling actors have a synergy that keeps us riveted to our seats. I highly recommend Death of the Persian Prince not only for its entertainment value but the story that it reveals and informs us about." —Polly Guerin, Polly Talk NY
"Substance and Heart.
Death of the Persian Prince is a play of substance and heart that deserves recognition and the opportunity to be more widely seen." -Howard Miller, Upstage-Downstage
Synopsis and Background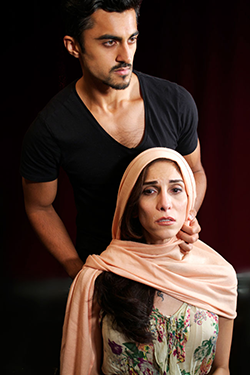 Death of the Persian Prince is a powerful, award-winning new play by Dewey Moss (The Crusade of Connor Stephens, A Normal Life, All the Way from Arp, TX) that sheds light on the growing practice of gay Iranians being pressured or forced into sex changes in order to avoid legal execution. While sex change operations are legal in Iran, homosexuality is punishable by death.
On an evening in New York City, Samantha and James arrive at Samantha's apartment after having attended a political lecture about Samantha's home country, Iran. The couple spars in a political debate, though it is obvious they are in love after having dated for five months. James is a veteran of the Iraq war, and tries to be open minded, but defaults to a typical American stance on other countries. Though Samantha has few plans to return to Iran, she still longs for her home country and has great hope that political situations in Iran will change.
When James suggests that he and Samantha make future plans together, things become uncomfortable. Samantha asks James to make a late night run for wine in order to avoid his advances. A knock at the door is heard. Samantha answers, and is caught off guard by an unexpected visitor from her homeland.
Fueled by a barrage of threats that unearth shattering confessions of unimaginable terror, the story of James, Samantha and the stranger takes an unexpected turn, leading to a stunning ending that proves nothing is as it seems.
The Story's Background Information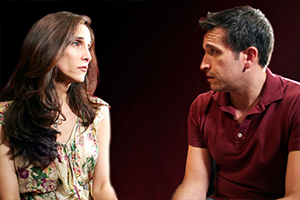 According to a 2014 BBC documentary, exact numbers of sex change operations are difficult to obtain. State government statistics claim that "sexual uadjustment surgeries" rose from 170 in 2006 to 370 in 2010; however, one doctor well known for performing the surgeries claimed he alone carries out over 200 surgeries each year. Furthermore, additional studies claim that 45% of people receiving the surgery were not transgender, but rather gay or lesbian told to have the surgery to avoid legal persecution.
"POWERFUL.
Dewey Moss' powerful new drama is an important play...We must not forget the harrowing, tragic fate that the Iranian regime imposes on many members of Iran's LGBT community. After seeing this play it seems impossible I'll ever forget." -Nick Walther, UInterview.com
Cast and Creative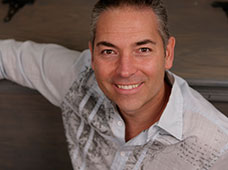 Dewey Moss (playwright, director) is an award-winning director, writer, and actor whose performance career has spanned Broadway shows, concert appearances, film/TV work, and opera. As a writer and director, his debut feature film A Normal Life won critical acclaim in film festivals worldwide and is currently in distribution. His screenplay, All the Way from Arp, Texas is currently in pre-production. One of his newest works, Death of the Persian Prince, a play about Iranian gay men forced to have sex changes to avoid execution, will be making its world premiere at the Midtown International Theater Festival. His play The Crusade of Connor Stephens is currently in pre-production for an off-Broadway run. In addition, he recently made his Carnegie Hall debut as both singer and director when he performed the opera Puppet by Christian McLeer (a solo piece written specifically for Dewey), and directed the world premiere of William Bolcom's Barnyard Boogaloo.
As a Creative Director for several major advertising firms, Dewey has written and produced/directed countless commercials, industrials, and webisodes, many of which have been Telly Award-winning. Originally from Fort Worth, Texas, Dewey also teaches acting and voice through his private New York City studio, DMoss Studios, and is author of the acting handbook Learning the Art of Imperfection.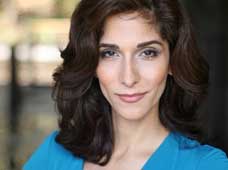 Pooya Mohseni (Samantha) is an Iranian/American actress. She is a graduate of the esteemed Maggie Flanigan Studio. Her recent stage performances have been in Emily Dinova's "Copse" at the Winter Madness Festival, directed by Emily Dinova & Gregoy Cioffi, in Fringe NYC's "A Touch of Forever" written by Josiah DeAndrea, directed by Michael Tartaglia, Joseph Samuel Wright's "Who Do?", directed by Joan Kane, as part of Nylon Fusion's one act play festival and Rob Lomanto's "Shooting Starr", directed by Lisa Panzer, at Manhattan Repertory Theatre.
She is also keeping busy by playing a range of characters in front of camera, the most recent being a co-star role on CBS' Madam Secretary, directed by Eric Stoltz, that aired in March and the Columbia MFA thesis "Day 39" directed by Jesse Gustafson that debuted at Lincoln Center in early May and her newest release, "Brutal Colors" directed by Mike Conroy, coming out on amazon DVD later this June. learn more about Pooya at pooyaland.com.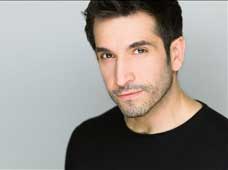 George Faya (James) is thrilled to return to the stage with this production of "Death of the Persian Prince". Recent work includes commercials for Custom Ink, Toyota, and Optimum/Cablevision - as well as roles in Travel Channel's "Mysteries of the Museum" and "Sesame Street". A New York born-and-raised actor, he attended the State University of New York at Purchase College, where he graduated with a Bachelor of Arts in Drama Studies. George has studied Meisner Technique with Matt Corozine at the MCS Studio, and Improv at Upright Citizen's Brigade, and is also the host of GoFest.tv. To find out more, visit: georgefaya.com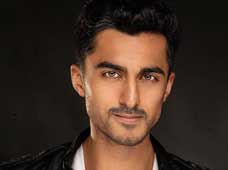 Gopal Divan (Cas) was born and brought up in Hong Kong and left home at the age of 17 to train in classical theatre for four years, in London. Upon graduation he worked as an actor at various theatres in both London and Hong Kong, as well as on television for the BBC. He recently starred as Phileas Fogg in "Around the World in 80 Days" and also completed shooting an independent film entitled "Guys Reading Poems". In addition to his acting work, Gopal is the founder of 'The Satori Company' and is recording his upcoming podcast series entitled "Sit-Chat-And".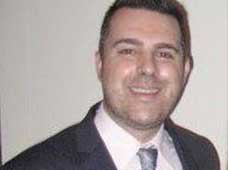 John Capo (Public Relations) has created more than 100 influential PR campaigns for clients in New York City's theater, film and live event industries. His clients have exhibited their work at such venues as Symphony Space, The Metropolitan Museum of Art, BAM, Theatre Row, The Duke on 42nd Street and the New York Public Library for the Arts, and have won or been nominated for the Emmy, Grammy, Tony, Obie and Drama Desk Awards.
He is a Producer and Media Relations Director for the New York City Drone Film Festival presented by NBC News, the world's first film festival dedicated to works filmed by drones. He previously spent four years as the Director of Public Relations for The Snapple Center, Snapple's 20,000-square-foot branded entertainment complex in Times Square.
In 2013, Capo produced two critically-acclaimed Off-Broadway musicals: Bayside! The Musical!, the parody of TV's Saved By The Bell, and Showgirls! The Musical!, the parody of the cult classic flop film Showgirls.
"GRIPPING.
Mr. Moss skillfully weaves political issues into the dialogue among the characters and creates a plot that is gripping and painful. With fine simplicity Moss also directs this contained and emotionally charged play that features a trio of strong performances." -Darryl Reilly, TheaterScene.net
Production History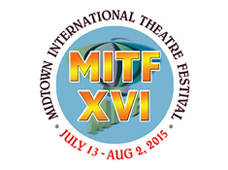 July, 2015 — Official Selection of the 2015 Midtown International Theater Festival, where Death of the Persian Prince gave its world premiere to sold-out houses, enthustiastic response, and stunning reviews.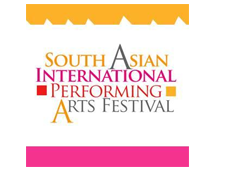 August, 2015 — Official selection of the 2015 South Asian International Performing Arts Festival, where the play garnered more positive press and won BEST PLAY.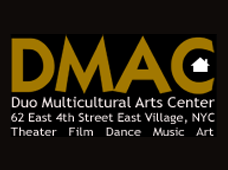 September, 2015 — Invited to give Off-Off Broadway premiere at DMAC Duo Multicultural Arts Center. The play, now with new and extended material from its festival run, received stunning reviews and standing ovations from enthusiastic audiences.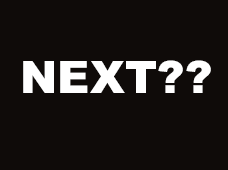 We are currently seeking a limited Off-Broadway run and theater location for Death of the Persian Prince. If you are interested in supporting the production, please contact us.
Contact Us

For more information about the production or licensing for Death of the Persian Prince, please contact us.